Your roof is your first line of defense against extreme weather and to make sure that your roof is in excellent condition, you'll need to ensure that every damage on your roof, whether minor or severe is repaired immediately.
Since your roof protects the occupants of your home or business, you'll need to ensure that there is no underlying damage to your roof and roofing system. Roof repair and roof maintenance is crucial so you won't reach the point where you'll need to replace your entire roof.
Your roof may show signs of deterioration due to extreme weather and other unavoidable circumstances. Dealing with different roofing problems can be stressful and most people don't like to deal with roofing issues.
Disregarding simple roof damages may result in severe roof damage. Leaks may start to appear in your attic or ceiling. The structural integrity of your home or business is at stake. Molds and algae might start to spread and cause health problems.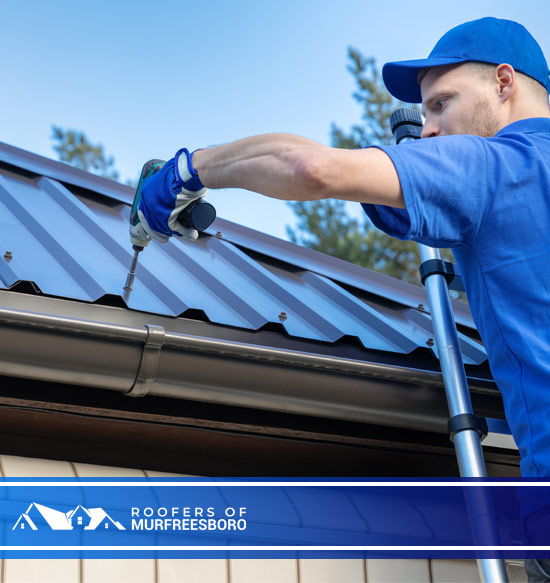 Top-Notch Roof Repair Murfreesboro, TN
It's always a smart move to hire a professional roofing contractor to conduct roof repairs on your residential or commercial property. They have the training, the right equipment, and they're familiar with walking around your roof.
As a professional roofer in Murfreesboro, Tennessee, we'll guarantee that we'll carefully check everything that needs repair. With our years of experience repairing roofs for residential and commercial properties in Murfreesboro, we'll get the repairs done in no time. Aside from this, we ensure top-notch roofing repairs.
Roofing is a dangerous job and accidents can happen without warning. You don't want to risk yourself climbing your roof and fixing the problem on your own. It's always a wise decision to have experts handle the roof repairs.
When we provide roof repair services, we always ensure the safety of everyone on the job site. We use the latest tools and techniques for performing different types of roof repairs. Our team of experts will ensure that the repairs are done promptly.
The biggest advantage of working with a professional roofer is saving money, long-term. Looking for roofing materials in your local hardware store can be costly. Since we're a local roofing company, we order the materials directly from roofing manufacturers.
We buy roofing materials at a lower price so you'll be able to save much on roof repairs. We'll guarantee that you'll receive the best roofing materials at reasonable prices.
You may opt to choose to perform a DIY repair on your roof, but if you come to think of it, it takes knowledge, experience, and the right set of tools to successfully repair a damaged roof. You do not want to end up spending more money because of a roof repair that went wrong.
It is safer and faster to process a roof repair when certified roofing contractors are working on your roof. Also, you will have peace of mind knowing that roof repairs are also under warranty. In case of property damage as a result of the roofers repair job, we carry General liability insurance and Workers' Compensation to ensure your not liable for damages.
There are other  advantages why you want to have certified roofers perform the repairs for you. When you work with us, we will ensure you will receive quality repairs that will last.
A storm is a devastating event and we know that you'll need repairs done as fast as possible. As a professional roofing contractor in Murfreesboro, Tennessee, we'll make sure that everything is fixed before the next storm comes! Call us today for a free estimate!